2010 AIFF Club World Cup
Tournament details
Host country
Duwamish
Dates
8 August–30 August 2010
Teams
16
Venues
10 (in 8 host cities)
Final positions
Champions
Freeport Sounders FC
Runner-up
Kasaba Bay FC
Third place
Aspatria United
Fourth place
White Star
Tournament statistics
Matches played
31
Goals scored
76
Attendance
1,704,925
Top scorer(s)
TBD
The 2010 AIFF Club World Cup is a football tournament played from 8 August to 30 August 2010. It is the inaugural AIFF Club World Cup and was played in Duwamish.
Participants
Edit
Qualification
Edit
Cowlitz Riverside Stadium
Location: Cowlitz
Capacity: 19,694
Coyotes Park
Location: Cowlitz
Capacity: 7,710
Dawson Bowl
Location: Dawson
Capacity: 84,000
GGE Park
Location: Goodwin
Capacity: 31,000
Koalas Stadium
Location: Kalama
Capacity: 22,401
Kalama Stadium
Location: Kalama
Capacity: 80,000
Keller City Pitch
Location: Keller City
Capacity: 5,104
Lions Park
Location: Lakewood
Capacity: 14,000
Montero Stadium
Location: Montero
Capacity: 42,456
Skagit Stadium
Location: Skagit
Capacity: 32,689
Final draw
Edit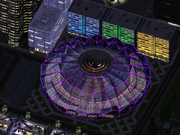 Pot 1 (Pacific)

Dublin Dragons FC, Empire, Freeport Sounders FC, Wikipedians FC

Pot 2 (Africa/Atlantic/Europe alternate)

Centreburg FC, FC Cambria, Kasaba Bay FC, Lanaya FC

Pot 3 (Americas)

AC Cincinnati, Dawson Ducks FC, Expedition United, FC Linktoria

Pot 4 (Eurasia and Oceania)

Aspatria United, Chihiro FC, Rhodes FC, White Star
The group draw was staged in Dawson, Duwamish, on 27 July 2010 at UD Arena.
Tournament summary
Edit
Quarterfinals
Edit
Semifinals
Edit
Third and fourth place
Edit
Main article: 2010 AIFF Club World Cup Final
Group stage
Edit
---
---
---
12 August 2010
19:30

Freeport Sounders FC
0 – 0
AC Cincinatti
Montero Stadium, Montero
Attendance: 42,190
Referee: Lawrence Burns (Duwamish)
Yi

69'


Jansen

 69'

Day 5
Fitzpatrick

69'
---
16 August 2010
17:00

AC Cincinatti
2 – 0
Chihiro FC
Keller City Pitch, Keller City
Attendance: 1,100
Referee: Charlie Comings (New Chandler)
Owens  

12'

 

67'

Day 9
---
16 August 2010
19:30

Freeport Sounders FC
2 – 0
Lanaya FC
GGE Park, Goodwin
Attendance: 35,670
Referee: Alex Prus (Duwamish)
Saathoff  

56'

 

86'

Day 9
---
---
13 August 2010
17:00

Dawson Ducks FC
1 – 1
FC Cambria
Koalas Stadium, Kalama
Attendance: 40,180
Referee: Charlie Comings (New Chandler)
Choi

44'


Lee  

90+3'

Day 6
Solando  

43'
---
13 August 2010
19:30

Dublin Dragons FC
0 – 1
White Star
Lions Park, Lakewood
Attendance: 17,810
Referee: Daniel Xena (Rhodes)
Day 6
MacBridei  

51'
---
17 August 2010
17:00

Dawson Ducks FC
1 – 1
White Star
Dawson Bowl, Dawson
Attendance: 98,209
Referee: Baros Dedon (Shushtrepistaz)
Lee  

77'

Day 10
MacBridei  

55'
---
17 August 2010
19:30

Dublin Dragons FC
2 – 1
FC Cambria
Koalas Stadium, Kalama
Attendance: 34,120
Referee: Lewis Dawkins (Illu'a)
Rays  

34'

 

66'

Day 10
Solando  

84'
10 August 2010
17:00

Wikipedians FC
0 – 2
Aspatria United
Lions Park, Lakewood
Attendance: 17,881
Referee: Mark Grayson (Cincinnati)
Day 3
Kane  

31'

 

68'

69'
---
10 August 2010
19:30

Expedition United
1 – 0
Empire
Dawson Bowl, Dawson
Attendance: 87,391
Referee: Oliver Lucas (Linktoria)
Smith  

81'

Day 3
---
---
14 August 2010
19:30

Aspatria United
1 – 1
Empire
Kalama Stadium, Kalama
Attendance: 76,120
Referee: Oliver Lucas (Linktoria)
Kane  

73'

Day 7
Müller  

43'
---
18 August 2010
17:00

Wikipedians FC
1 – 0
Empire
Montero Stadium, Montero
Attendance: 45,196
Referee: Alex Prus (Duwamish)
Livingston  

49'

Day 11
---
18 August 2010
19:30

Aspatria United
1 – 0
Expedition United
Keller City Pitch, Keller City
Attendance: 8,109
Referee: Mark Grayson (Cincinnati)
Kane  

89'

Day 11
11 August 2010
17:00

Centreburg FC
0 – 2
Kasaba Bay FC
Montero Stadium, Montero
Attendance: 48,190
Referee: Baros Dedon (Shushtrepistaz)
Day 4
Kato  

48'

 

65'
---
11 August 2010
19:30

FC Linktoria
1 – 1
Rhodes FC
Keller City Pitch, Keller City
Attendance: 6,100
Referee: Lewis Dawkins (Illu'a)
Gray  

43'

Day 4
de Jafa  

42'

43'
---
15 August 2010
17:00

Centreburg FC
2 – 0
FC Linktoria
Dawson Bowl, Dawson
Attendance: 85,112
Referee: Major L. Dixon (Starfishland)
Fores  

2'

 

7'

Day 8
---
15 August 2010
19:30

Kasaba Bay FC
0 – 0
Rhodes FC
Kalama Stadium, Kalama
Attendance: 81,190
Referee: Marion Prus (Duwamish)
Kato

10'

Day 8
---
19 August 2010
17:00

Centreburg FC
0 – 2
Rhodes FC
Koalas Stadium, Kalama
Attendance: 56,100
Referee: Major L. Dixon (Starfishland)
Fores  

23'

 

79'
---
19 August 2010
19:30

Kasaba Bay FC
2 – 1
(a.e.t.)
FC Linktoria
Dawson Bowl, Dawson
Attendance: 81,109
Referee: Marion Prus (Duwamish)
Kato  

41'

 

107'

Day 12
Gray  

37'
Knockout round
Edit
Quarterfinals
Edit
---
22 August 2010
17:00
Quarterfinals
Aspatria United
3 – 0
AC Cincinatti
Dawson Bowl, Dawson
Attendance: 99,108
Referee: Michael Prus (Duwamish)
Kane  

9'

 

45'

 

68'

QF2
---
23 August 2010
17:00
Quarterfinals
White Star
2 – 2
Rhodes FC
Koalas Stadium, Kalama
Attendance: 32,190
Referee: Alex Keller (Duwamish)
MacBridei  

11'

 

32'

QF3
de Jafa  

54'

 

56'

 
Penalties
 
Atlisson
Zaldivar
Allegraine
Santos
MacBridei
5 – 4
de Jafa
Danaius
Zakem
Federov
Mao
---
24 August 2010
17:00
Quarterfinals
Kasaba Bay FC
2 – 1
(a.e.t.)
Dawson Ducks FC
Kalama Stadium, Kalama
Attendance: 87,109
Referee: Carl de Guzman (New Chandler)
Kato  

81'

 

117+'

QF4
Donovan  

1'
Semifinals
Edit
26 August 2010
17:00
Semfinals
Freeport Sounders FC
2 – 0
Aspatria United
Dawson Bowl, Dawson
Attendance: 94,109
Referee: Alex Keller (Duwamish)
Saathoff  

1'

 

51'

SF1
---
27 August 2010
17:00
Semifinals
White Star
0 – 1
(a.e.t.)
Kasaba Bay FC
Kalama Stadium, Kalama
Attendance: 87,180
Referee: Charlie Comings (New Chandler)
SF2
Kato  

90+4'
Goalscorers
Edit