2011 COFR Cup
2011 기짐연구 컵
Tournament details
Host country
Duwamish
Dates
2 January – 19 January
Teams
9
Venues
6 (in 4 host cities)
Final positions
Champions
Escambia
Runner-up
Lisieux
Third place
New Chandler
Fourth place
Duwamish
Tournament statistics
Matches played
13
Goals scored
58
Attendance
1,190,138
Top scorer(s)
Cleveland Keller (12)
The 2011 COFR Cup was the inaugural COFR Cup, a qualifying tournament for men's national soccer teams from the Confederacy of Free Regions (COFR) to advance to the AIFF World Cup. It took place in Duwamish form 2 January to 19 January 2011. AIFF selected Duwamish as host nation as the country would be celebrating the 70th anniversary of their founder's birth, and the Duwamish men's national football team had successfully retained their second-place position on the world ranking. Matches were spread out in six stadiums located in four cities, the majority being played in Kalama and Dawson.
Nine teams, five from Europe, two from Africa and two from North America, entered the tournament. Two COFR members, Iryllia and Oblast Of Óstrëlaka, were excluded due to not being a members of the AIFF. The teams were divided into three groups, with the winner of each group as well as the top-ranked second-place finisher progressing to the semifinals. The semifinalists would be qualified for the 2011 AIFF World Cup and could be exempt from playing in the Confederations Cup. The first COFR Cup match was won by Escambia 4–3 over Duwamish. Sunkte Saathoff scored the first goal of the tournament.
Escambia, Lisieux, and New Chandler each won their respective groups to qualify for the semifinals. Hosts Duwamish was the highest-ranked second-placed team and also qualified. In the final, favorites Escambia defeated Lisieux 2–1 in front of a crowd of 125,500 people at the Dawson Bowl on 19 January, coinciding with the seventh anniversary of the birth of James Williamson, founder of the modern-day country.
In 2010, the AIFF announced it would implement qualification stages, based on union affiliation, for the second annual World Cup Finals. For the inaugural edition of the tournament, all members of the AIFF were allowed to participate without qualification, since there were only sixteen members at the time. As of the November 2010 world rankings, there are thirty-six members of the AIFF. Members of the Alliance of Independent Nations (AIN) will qualify through the AIN Cup, currently unscheduled, while members of the Confederacy of Free Regions (COFR) qualify through the COFR Cup. Non-aligned members without a union can qualify through the Confederations Cup.
Preparations
Edit
For the tournament, the Duwamish Soccer Federation chose six venues located in four cities, Dawson and Kalama each hosting two venues, and expanded capacity at two venues (Dawson Bowl and Kalama Stadium) and built a new venue in North Dawson, Goodwin Motors Stadium. As part of preparations for the COFR Cup, Duwamish Sports Network (DSN) announced a logo redesign to match new on-screen graphics to be introduced on the first day of the tournament.
Participants
Edit
Main article: 2011 COFR Cup squads
Nine of the eleven Confederacy of Free Regions (COFR) member states, eight full members and one ambassadorial member, participated in the tournament. The two excluded members were Iryllia and Oblast Of Óstrëlaka, which have yet to join the AIFF. Atrubia, hosts Duwamish, Escambia, Gansbaai, Insulo, Lisieux, New Chandler, Platte Republic, and Posillipo were the participants. Former members Roumeli Island and South Chesapeake were scheduled to participate, but withdrew and were officially removed on 27 December 2010, when the tournament was restructured. All nine squads and their supporters arrived by 29 December 2010 and reside at hotels in Kalama and Dawson.
AIFF's Referee's Committee selected twelve referees, two from six of the participating nations, to officiate at the COFR Cup. Duwamishite referee Alex Keller was chosen to referee the final. Keller had previously overseen the Club World Cup final and several friendlies.
Alex Keller
Randal Williams

Gottlieb Cirks
Michael Jans

Muhammad Ali
Ahmed Allah

Lidón Collado-Saenz
Sergio Villate

Jacob Cass
Carl de Guzman

Gregory Haneland
Dmitry Thierry
Tournament summary
Edit
Group stage
Edit
Ranking of second-placed teams
Edit
Knockout stage
Edit
Semifinals
Edit
Third place match
Edit
Main article: 2011 COFR Cup Final
Group stage
Edit
2 January 2011

Duwamish
3 – 4
Escambia
Dawson Bowl
 
19:30 PST
Keller  

14'

, 

49'

, 

90+2'

Report
Saathoff  

12'

, 

29'


Wieland

41'


Jimenez

41'


Nkufo  

54'

, 

65'


Janssen

71'

Attendance: 119,543
Referee: Gregory Haneland (Posillipo)

8 January 2011

Escambia
3 – 1
Atrubia
Koalas Stadium
 
19:30 PST
Saathoff  

18'

, 

52'


Nkufo  

31'

Report
Uncredited  

71'


Uncredited

 72'

Attendance: 36,300
Referee: Ahmed Allah (Gansbaai)

6 January 2011

Insulo
2 – 2
Gansbaai
Dawson Bowl
 
19:30 PST
Benthami

14'

 

19'


Snelling  

87'

Report
Jalili  

42'


Deeb  

83'

Attendance: 110,200
Referee: Michael Jans (Escambia)

Knockout stage
Edit
Semifinals
Edit
Third place match
Edit
18 January 2011

New Chandler
7 – 6
Duwamish
Kalama Stadum
 
19:30 PST
Richardson  

27'

, 

47'

, 

58'

, 

90+3'


Fernandez  

28'

, 

85'

102'


Velasquez  119' (pen.)
Report
Richardson

59'

 

80'

, 

90+2'


Keller  

71'

, 

75'

, 

85'

, 

90+3'


Richards

 82'


Meyer

 119'

Attendance: 123,400
Referee: Gregory Haneland (Posillipo)

19 January 2011

Escambia
2 – 1
Lisieux
Dawson Bowl
 
12:00 PST
Nkufo  

56'

 57'


Maxwell

72'


Janssen  

86'

Report
Reeves  

37'

Attendance: 125,500
Referee: Alex Keller (Duwamish)

Statistics
Edit
Goalscorers
Edit
Escambian striker Sunkte Saathoff was the first player to score a goal in the competition, in their 4–3 win over Duwamish, the opening game of the tournament. Several hat-tricks, or scoring three goals from one player in a single match, have been recorded in the COFR Cup. Duwamishite striker Cleveland Keller achieved the first, and most overall, hat-tricks in the tournament, recording three hat-tricks. His first came in the opening match against Escambia, the second in a 3–0 win over Atrubia and the third in a 6–7 loss to New Chandler. New Chandlerite striker Todd Richardson achieved two hat-tricks, one in a 3–2 win over Posillipo and the second in a 7–6 win over Duwamish. Jeremy Reeves of Lisieux got a hat-trick during his team's 3–2 win in the semifinals over Duwamish.
COFR Cup champions Escambia scored eleven goals on their way to the title, including seven in the group stages, two in the semifinals, and two in the final. They conceded six goals in the tournament, three during their opening match against Duwamish. Duwamish scored the most goals, at fourteen, while Atrubia and Platte Republic tied for least goals scored, at one. Lisieux conceded only three goals, with none in the group stage, two against Duwamish in the semifinals, and one against Escambia in the final. The most goals conceded was also Duwamish, who conceded thirteen goals, including seven against New Chandler in the third place match. The top scorer was Cleveland Keller of Duwamish, with 12 goals, and also three hat-tricks in four games. Only 58 goals were scored in the tournament, an average of about four per match.
12 goals

8 goals

5 goals

4 goals

3 goals

2 goals

1 goal
Wins and losses
Edit
Discipline
Edit
During the tournament, the main disciplinary action taken against players comes in the form of red and yellow cards. Any player picking up a red card is expelled from the pitch and automatically banned for his country's next match, whether via a straight red or second yellow. Players also receive a one match ban if they pick up two yellow cards from the beginning of the group stage until the end of the semifinal matches, at which point single yellow cards will be deleted. However, such a ban does not carry over beyond the COFR Cup if the second yellow card is collected in his team's last match of the tournament.
Sanctions
Edit
By referee
Edit
| Referee | Matches | Total | | | |
| --- | --- | --- | --- | --- | --- |
| Muhammad Ali | 1 | 1 | 0 | 0 | 1 |
| Ahmed Allah | 1 | 1 | 0 | 0 | 1 |
| Jacob Cass | 1 | 0 | 0 | 0 | 0 |
| Gottlieb Cirks | 1 | 0 | 0 | 0 | 0 |
| Lidón Collado-Saenz | 1 | 1 | 0 | 0 | 1 |
| Carl de Guzman | 1 | 1 | 0 | 0 | 1 |
| Gregory Haneland | 2 | 7 | 5 | 0 | 2 |
| Michael Jans | 1 | 1 | 1 | 0 | 0 |
| Alex Keller | 1 | 2 | 1 | 0 | 1 |
| Dmitry Thierry | 1 | 0 | 0 | 0 | 0 |
| Sergio Villate | 1 | 1 | 1 | 0 | 0 |
| Randal Williams | 1 | 1 | 1 | 0 | 0 |
All-Star Team
Edit
The All-Star Team was decided by an online public vote, in which people were invited to select a team (in a 4–4–2 formation) and best coach. Voting was open until 11:59 PST on January 19, 2011, with entrants going into a draw to win a prize. Four of the eleven players came from the Escambian team, as did the coach. The remainder of the team comprised two Lisieuxvians, two New Chandlerites, and three Duwamishites.
| No. | | Position | Player |
| --- | --- | --- | --- |
|   | | MG | Tong-Uk Yi |
|   | | GK | Ethan Florence |
|   | | DF | Roberto Jimenez |
|   | | DF | Adrian James |
|   | | DF | Tyler Dahl |
|   | | DF | Abdul-Rafi Hossein |

| No. | | Position | Player |
| --- | --- | --- | --- |
|   | | MF | Collin Nyassi |
|   | | MF | John Cy |
|   | | MF | Victor Velasquez |
|   | | MF | Jose Schmid |
|   | | FW | Suntke Saathoff |
|   | | FW | Cleveland Keller |
Post-tournament team ranking
Edit
Shortly after the final, AIFF issued a final ranking of every team in the tournament. The ranking was based on progress in the competition, overall results and quality of the opposition. The final ranking was as follows:
1. Escambia
2. Lisieux
3. New Chandler

7. Platte Republic
8. Gansbaai
9. Atrubia
Match ball
Edit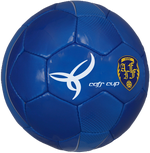 The match ball for the 2011 COFR Cup, manufactured by Devine Athletics, is named the Devine Calling, using the manufacturer's name as a pun. It features a blue design using a truncated icosahedron or Buckminsterfullerene consisting of twelve pentagonal and twenty hexagonal panels, the regular design of most soccer balls. Similar to the Adidas Telstar in using a polyurethane coating to prevent easy damage, it also features the logo of Devine Athletics and the AIFF shield on its front. A special match ball with green panels, called the Devine EcoCalling, will be used at the final in Dawson.
Broadcasting
Edit
The 2011 COFR Cup was the most-watched television event in Duawmishite history, with a cumulative 247 million people, an average of approximately 19 million per match. Broadcasters representing all participating countries, in addition to AIFFtv and COFRtv, transmitted the Cup to a TV audience expected to exceed a cumulative 900 million people, an average of approximately 69 million viewers per match. AIFF estimated that around 100 million viewers would watch the tournament final. New forms of digital media have also allowed viewers to watch coverage through alternative means.
List of TV and radio broadcasters
Edit
SE technology was used to film the tournament. According to AIFF, all the matches were captured using 3D cameras and was filmed through multi-image MPE-200 processors, housed in specially designed 3D outside broadcast centers in all stadia. The 3D games were produced by Dawson Media Broadcasting Services.
Video game
Edit
Main page: COFR Cup 11
Duwamishite game developer GreenGaming, in cooperation with the AIFF, produced and developed COFR Cup 11, the official video game for the tournament. Released on several gaming platforms, the game uses all nine teams and all six venues in an interactive experience that combines a tournament mode, simulating the actual tournament, and friendlies mode, which lets players play friendlies with other teams. The game was released November 1, 2010 in Duwamish and on November 10, 2010 internationally.
COFR Cup Fan Fest
Edit
UD Arena in Dawson hosted the COFR Cup Fan Fest, held from December 30, 2010 to January 2, 2011, where fans met players and were given signed autographs and balls through auctions for charitable causes.
Ad blocker interference detected!
Wikia is a free-to-use site that makes money from advertising. We have a modified experience for viewers using ad blockers

Wikia is not accessible if you've made further modifications. Remove the custom ad blocker rule(s) and the page will load as expected.